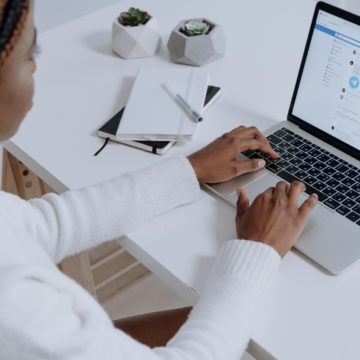 Starting the journey in online advertising can be scary. There are many things you need to set up before you can run ads. If you have done any research on Facebook ads, you've probably read the words "Facebook Pixel" somewhere. So today we're here to give you all the information you need on what it is, how it works and most importantly, how to set it up!
What is the Facebook Pixel?
The Facebook Pixel is a little piece of code that you insert into your website. It collects data that enables you to measure conversions from Facebook advertising, optimize your campaigns, create targeted audiences for future ads, and retarget to individuals who have already engaged with your website. The pixel tracks and records multiple actions a person takes on a website, such as a purchase or adding a product to a wish list or cart. On Facebook, these acts are referred to as "events."
The pixel sets a cookie on the user's browser, records their online activity, and allows you to "follow them around" with customized advertising. Facebook provides JavaScript code that you may include on your website. The code then connects with Facebook to track, optimize, and grow your campaigns' audiences. Once you have advertised to previous site visitors, you can also employ pixels to track their activity on your site. 
By installing and activating cookies, the Facebook Pixel records users' interactions with your brand on and off Facebook and Instagram. As an example, suppose you visited the Curve Communications website and began browsing our services. You discovered one that is the exact thing your business needs but were forced to leave without contacting us, and you promptly forgot about it. Now, the next time you browse the web, you'll see that our advertisements are directed towards you. This serves as a reminder that you visited the site and encourages you to pick up where you left off.
According to a well-known study conducted by Retargeter.com, just 2% of online traffic converts on the first visit to most websites. Retargeting is a technique that enables businesses to target the other 98% of consumers who do not convert immediately. Therefore, if you haven't already configured the pixel for your website, keep reading for a step-by-step guide on how to configure your very own Facebook Pixel code for retargeting.
Why Should You Install a Pixel?
When pixels are used in conjunction with Facebook, businesses get an essential tool for retargeting and nurturing prospects. The insight you gain from the pixels allows you to:
     

Calculate cross-device conversion rates;

     

Optimize distribution to those most likely to act;

     

Create audiences for retargeting website visitors automatically;

     

Create "Custom Audiences" for visitors to your website who perform specific actions;

      Gain insights into your audience (get informative stats about the people who visit your site);

     

Create "Lookalike Audiences" to identify other individuals who are similar to your most significant customers.
How to Install a Facebook Pixel
Now that you're familiar with its purpose, the next step is to install the Facebook Pixel on your website. Just follow the steps below!
Establish a Facebook Pixel
The first step is to create your pixel. You'll need to access your Ads Manager on Facebook and go to the Events Manager tab, navigate to Connect a Data Source and select Web. Then pick Facebook Pixel and click Connect. Input the information asked.
Add the Facebook Pixel to your website
The Facebook Pixel can be integrated in three ways:
Once you're done with step 1, select Install Code Manually and copy the base code. To install it on every page of your website at once, simply add it to the bottom of the website's global header section, between <head> and </head>. Then click Save Changes.
Using a Partner Integration
In the Events Manager, select the pixel you created in step 1 and click Use a Partner. Select the partner and follow the instructions.
Hand it Over to a Developer
If a web developer maintains your website, you can easily email them the instructions and the Facebook Pixel code. After setting up the code according to step 1, select Email Instructions and enter the developer's email address. 
Set up Events
Now you just need to add the events you want to track using Facebook's Setup Tool. Click Open Event Setup Tool and follow the instructions.
After adding the code, use the Facebook Pixel Helper to verify that it is functioning correctly. Additionally, Facebook Pixel Helper notifies you of problems, allowing you to retry the installation procedures to verify everything is operating the way it should. If the Pixel Helper displays no problems, you may begin seeing real-time event and conversion statistics for your Facebook marketing campaigns.
Not as complicated as it seems, right? But if, even after reading this blog, you still find it overwhelming, contact us and we'll be happy to assist you with your advertising!