We are undoubtedly experiencing a paradigm shift in regards to how we conduct business with each other. Curve Communications works hand in hand with businesses in different industries, including manufacturing, education, health care and equipment companies. We work closely with our clients on all aspects of their B2B marketing needs, with a specific focus on driving leads through inbound and outbound customer-centric content, events, and advertising.
The COVID-19 crisis changed things significantly, especially as it pertains to how companies interact and communicate with potential customers via avenues like trade shows, conferences and more.
It may be a long time before we see any kind of normalcy return to the way companies conduct B2B marketing. With that kind of uncertain future, companies like yours have to start re-thinking marketing plans for the year ahead. The good news is that this is not forever. Any new initiatives and techniques you implement now will complement your other – well-established channels, down the road. 
One area of opportunity that you may or may not be familiar with, or that you perhaps know the techniques of, but not the terminology, is Account-Based Marketing (ABM).
ABM is a strategic approach to business marketing based on account awareness, in which an organization considers and communicates with individual prospect or customer accounts as if they were markets of one. ABM helps you increase your customer account relevance, engage earlier with leads, close bigger deals, align your marketing activity with sales strategies, get the best value out of marketing, inspire leads with compelling content, and identify specific contacts at companies that will convert into paying customers.
So many of Curve's clients have relied on trade shows for lead generation and overall sales, but with the world in flux, we are working closely with our clients to move them more aggressively towards a solid ABM strategy.
Trade shows have traditionally been very advantageous for most business-to-business marketing. The reason: your audience is gathered in one place where you can network and sell, one-on-one. You get to build trust with leads in real-time in real life. Interacting with warm leads, who have been brought together in one place, hanging out at their booths, at industry talks, at the cafes and, yes, at the bars.
Convenient, done for you, all in one place — who doesn't love a good trade show to grow business? So that means the temporary loss of the beloved trade show is a big loss in the B2B marketing toolbox. And while there are current attempts for virtual trade shows as a replacement, it's just not the same. Technology is not yet sophisticated enough to provide the 3 or 4D, AR or VR experience we might dream about. However, technology in a different way, using account-based marketing techniques and tools, might be the golden ticket, because doing nothing is not an option. In fact, there is significant proof that now is the best time to start marketing more than you ever have, and the opportunity for long-term growth is better during a recession than any other time.
If you are an experienced business owner or sales representative for a business, then we are sure you have seen and experienced several ups and downturns of the economy. On the other hand, you have never seen anything like the COVID-19 crisis that we are currently experiencing, but that is no reason for your company to stop its marketing efforts.
Evidence from the Great Depression of the 1920s to the more recent economic crisis of 2008 proves that if you market in a down economy, then you are more likely to be prosperous to a greater degree than before, once the economy recovers.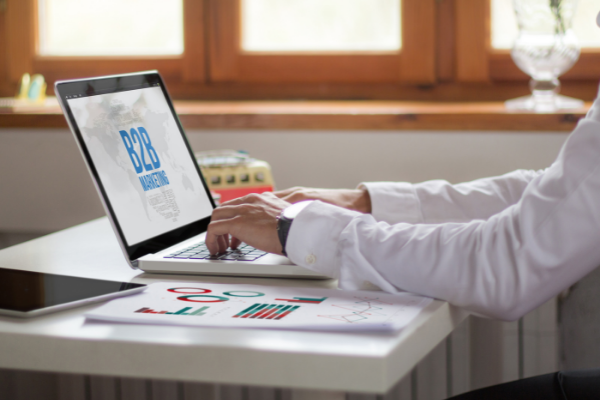 Interesting Facts
According to Harvard Business Review, 200 companies were followed through the economic recession of 1923 to 1927. The investigation showed that the largest increases in sales were experienced by the companies that advertised the most during that period.
During the recession that occurred between 1981 and 1982, McGraw-Hill research showed firms that increased their spending on marketing during that period averaged significantly higher sales growth, both during the recession and in the three years following the recession than those who decreased spending on marketing. By 1985, revenue growth among the aggressive recession advertisers was 256% faster than among those who had reduced their advertising activity.
More recently, a Yankelovich/Harris study found that the vast majority (86%) of executives say that when a company markets in a down economy, it makes them feel more positive about the company's commitment to its products, and, more importantly, it keeps those firms top-of-mind when purchase decisions are made.
The above studies should be enough to convince you of the importance of marketing in a down economy if you weren't already convinced. On the other hand, we are living in unprecedented times and facing a crisis that has never been faced in modern times, so traditional marketing approaches like trade shows and promotional events may not serve you as they did prior to the COVID-19 crisis.
This by no means is a reason to stop: you need to find new ways to reach your audience.  
The process of replacing, albeit temporarily, your trade show marketing plan with an account-based marketing system requires several steps to maximize success. And because ABM relies on significant use of digital marketing, you need to lay the groundwork first. This means having a customer relationships management (CRM) system coupled with marketing automation tools.
Your CRM and Marketing Automation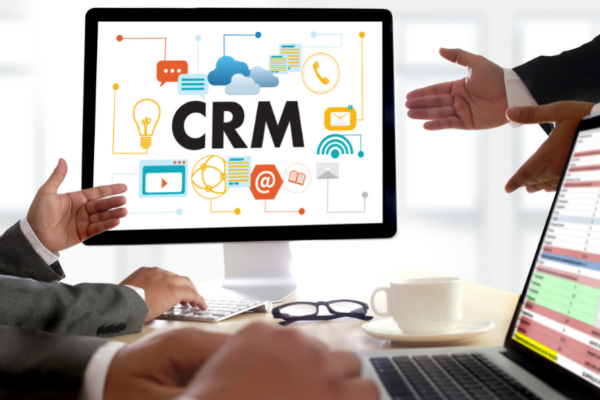 A Customer Relationship Management (CRM) system is a technology for managing all of your company's relationships and interactions with customers and potential customers. A CRM system helps companies stay connected to customers, streamline processes, and improve profitability. Most of the clients we work with have some kind of CRM, whether it be Salesforce, Microsoft, SharpSpring or others (we provide a partial list of systems at the end of this post); however, the power of a good CRM is when you connect it with a marketing automation system, which is usually part of a package deal offered by CRM providers.
Tapping into the power of a CRM and its marketing automation system requires that you first have your CRM set up and that your team understands how to use it properly. A lot of salespeople use a CRM as a simple database to track leads for emailing or phone calls. However, your CRM coupled with marketing automation is so much more.
Marketing automation is the use of software to automate marketing activities. Marketing automation allows companies and marketing departments to function more effectively across multiple online channels.
Marketing automation streamlines certain marketing processes such as email marketing, social media posting and even running advertising campaigns. They not only provide efficiency, but also provide customers with a much more personalized experience than they would otherwise have. 
With CRM and marketing automation set up properly, you can track how people behave on your website, what they download, how long they watch a video, when they come back to the site and so on. All of this information is then provided to you in real-time via a sophisticated digital platform that alerts you at the right time. But it also automates simple tasks: for example, when someone downloads your e-book or watches your webinar, they are then put into an email sales sequence to keep the conversation going, but with the ultimate goal of setting up a meeting with sales.
At Curve Communications, we spend a great deal of time developing customer personas for our clients. It is a crucial step as part of your account-based marketing planning, along with defining a unique selling proposition. Surprisingly, when we onboard a new client, we discover many have not created a profile of their perfect customer. Once they do, with our help, so much of their strategy for marketing and sales becomes more clear. With no persona(s) defined, a business can spend a lot of time and money on marketing to the wrong person — and that will not lead to success. In B2B marketing, quality over quantity is the preference.
The process is simple. If you picture your perfect customer, vividly answer the following points, describing them before they purchase your product: their age, profession or job title, background, other demographic information, hobbies, marital status, mental/physical health, what they do online (think of people + public figures, magazines, books and authors, brands, big businesses, organizations, products + services, and more.)
Once you have defined the perfect customer persona, you need to start researching and adding them into your CRM so that you can track the relationships and the success of your ABM strategy.
Ask yourself: 
How many accounts/businesses fit your ideal customer profile?

Have you been able to identify the decision-makers and influencers in each account?

Do you have the data to reach all the stakeholders at each account?

Have you properly set up a way to track individuals in each of the right accounts that you are able to reach?
Content is King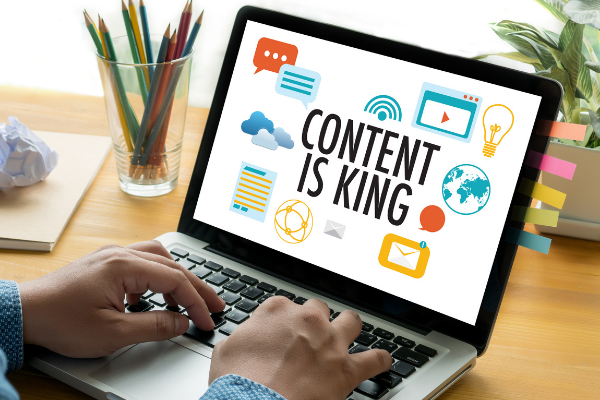 Rather than launching a broad marketing campaign that attracts thousands in an attempt to nurture only the few that express their interest, ABM targets specific companies in a bid to engage with key decision-makers and then build on that relationship to gain their trust and land more sales. You do this with content.
At a trade show, you build trust and make sales because you get the opportunity to interact with a potential lead three or four times throughout the event. It may be at a speaking engagement, at your booth, or afterwards while having a drink at the bar. But when you only have the phone and a computer, the personal touch offered at a trade show is replicated with multiple touchpoints via meaningful content.
In a report from ITSMA, 87% of marketers measuring ROI say that Account-Based Marketing outperforms other marketing investments. Email marketing has an ROI two times higher than cold calling, networking or trade shows. You can generate and use content that can be a replacement for the small talk you will typically encounter at trade shows.
The type of content you create should not only build the level of engagement but also the level of trust with your audience. Content comes in many forms but some are more key than others.
Start with your website. The best way to keep visitors on your site is through valuable content, good organization and attractive design. Keep your site simple and well organized. In the end, it needs to tell your story and sell your product. One thing that really helps with that is having a section of great case studies.
Profiling the successes that you have had with customers in the past to create content that relates to customers in the future, is the key to closing a client. So, these kinds of cases can be written with visuals, they can be video testimonials, or they can be customer-focused testimonials from the customer's perspective.
Second, you need to make sure you have a profile video of your company or an 'About Us' video. The video can either be posted on your site's homepage or on your About Us page, and it should show the culture of your business, as well as your number one business dream. It should also showcase a couple of case studies that relate to what you do, and how successful you have made your customers. It is always important to remember that your website and your content is not about you, it's about your customers. It is about their success, not yours; how you are solving their problems with your product or service.
Third, you need to present your product or service offering in a simple but clear way. Visuals are the best way for you to achieve that goal. A one-page sales document is the most common example of doing so. Ensure you fill the page with great photos and detailed information.
Fourth: webinars. Sometimes it is difficult for a customer to understand how your product or service will help them without walking them through the whole process. So that's why we always recommend webinars, or maybe three individual videos, live or pre-recorded. This approach instills confidence in your abilities. You can show by example and give them an understanding of how you and your business operations help customers achieve the success they so desire.
Fifth is a whitepaper or e-book. The written word is still a very effective manner of conveying information. It doesn't have to be a 200-page encyclopedia of information. A well-organized e-book of 2000 to 3000 words on a specific part of what you do or what your product achieves for a client will suffice.
As part of account-based marketing, great content helps develop quality customer relationships. It is all about building trust with your customers and potential leads. The more quality content you have, the more you can engage in quality conversations with leads. But successful account-based, content-driven marketing requires automation for scalability and success tracking. To close more deals, you need to reach more quality leads with more content.
With all of this content, a key performance indicator is the quality of engagement. With your CRM platform and marketing automation set properly, you should be able to measure the follow-ing about your audience:
 

Time spent consuming your content

  Volume of content being consumed (how many assets did the audience visit)

 

Span of the content consumed (did the audience visit your wider digital estate)

 

Attendance at events, both online and in person

  Intensity of the engagement (is it increasing as your programs progress)

 

The more engaged the lead is with the content — the more likely they are to convert.
What Does the Future Hold?
The future is always uncertain. However, you can be sure of one thing. If you engage in account-based (ABM), content-focused marketing and you add in a solid CRM with marketing automation, you will be ahead of the curve when the COVID-19 crisis is over.
Trade shows are great. And they will be back once we are through this crisis. If you take the time to develop a solid ABM strategy, you will certainly be better positioned to scale your business with the combination of your trade show circuit and amazing follow-up with high-quality content.
List of CRMs and Marketing Automation Systems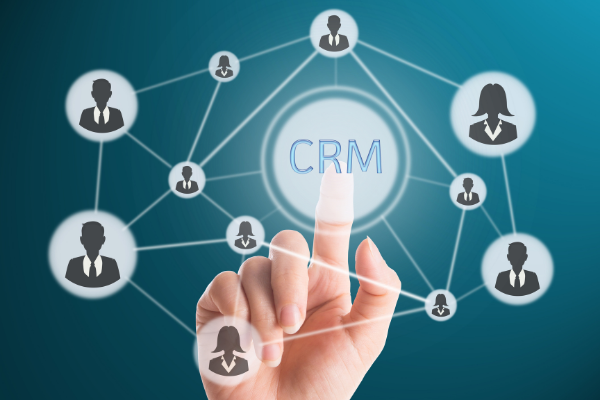 There are more than 50 platforms to choose from. Below are some of the ones Curve Communications' clients use. As an agency, we remain agnostic about which one your company should install. We are a partner of the SharpSpring system but we recommend you look and test at least three platforms before making a decision. Think about your budgets and how well your team will embrace the choice based on your own internal systems. 
Salesforce.com coupled with Pardot.com is a cloud-based Customer Relationship Manage-ment (CRM) application and marketing automation system.

Monday.com is a cloud-based Work OS, where teams create workflow apps in minutes to run their processes, projects, and everyday work.

Hubspot.com is a CRM that takes care of all the little details from recording calls, logging emails, and managing data.

Keap.com (formerly Infusionsoft) is an all-in-one sales & marketing software designed for entrepreneurs, startups and larger teams.

Salesflare.com is a CRM solution for small businesses & startups, designed to reduce the time spent on data input.

SharpSpring.com is a comprehensive marketing automation platform with robust features, functionality and performance. SharpSpring is one of the most flexible platforms on the market, offering powerful, behaviour-based email marketing, and native or third-party CRM integration.

ActiveCampaign.com gives you the email marketing, marketing automation, and CRM tools you need to create incredible customer experiences.

Agilecrm.com is a fully integrated CRM with sales tracking, contact management, marketing automation, web analytics, two-way emails, telephony, helpdesk, and a clean modern interface.

ClickDimensions.com is the only complete marketing solution for Microsoft Dynamics, made exclusively for and natively built within Dynamics CRM.

Zoho.com is an all-in-one marketing automation software that helps you successfully manage your marketing activities across multiple channels. Generate more leads, convert them to customers, and retain them longer.
You don't need trade shows to win at trade show marketing.

Get in touch with Curve and start selling virtually.