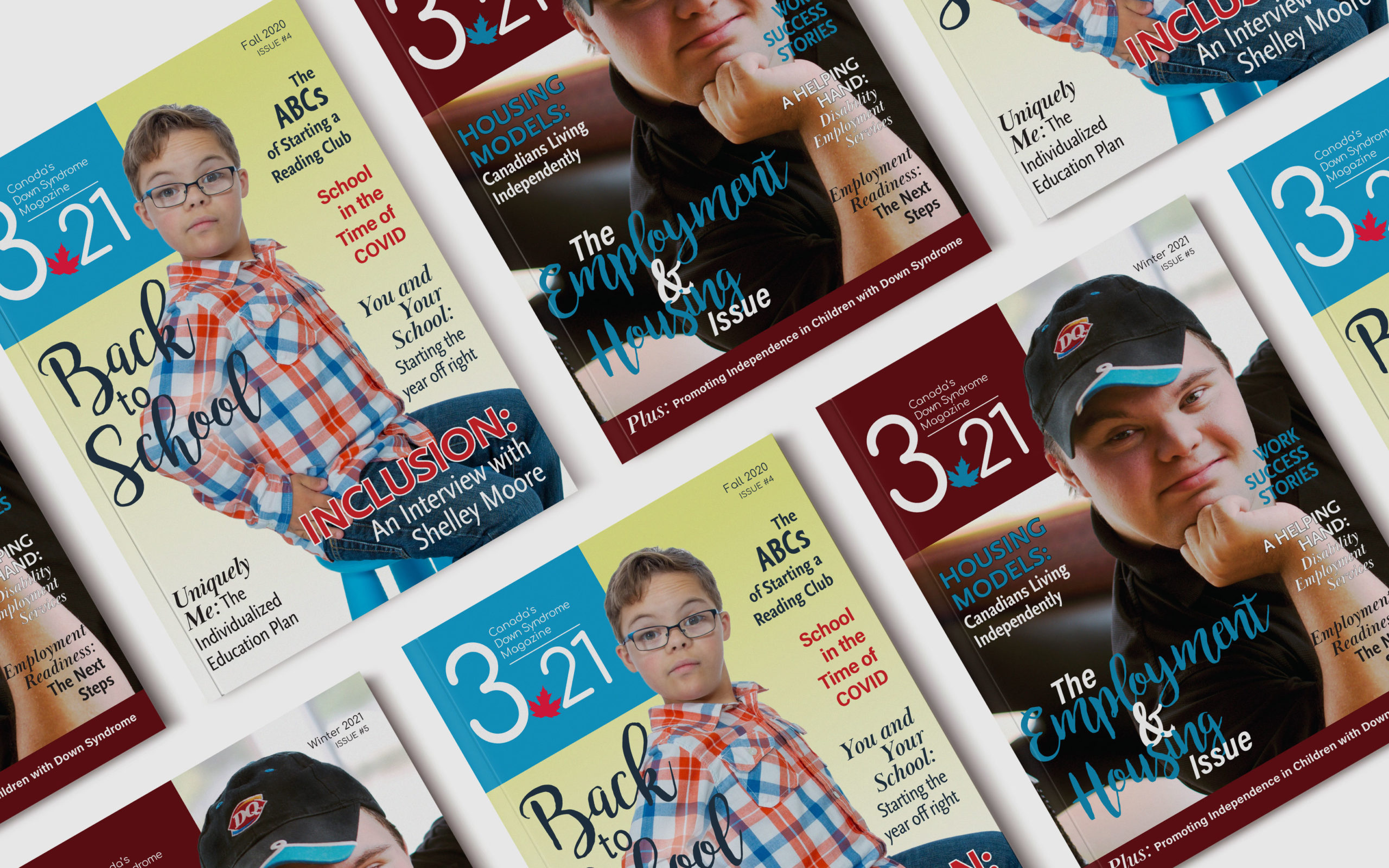 Getting your content in front of the right eyes is more important than ever these days. With access to millions of stories at our fingertips, it takes time to create an engaging magazine that really catches your reader's eye.
That's why the Down Syndrome Resource Foundation (DSRF) and the Canadian Down Syndrome Society (CDSS) chose to work with our team to design their first national quarterly publication, 3.21: Canada's Down Syndrome Magazine. For many years, the DSRF has come to Curve Communications for a variety of marketing initiatives, videography, and photography content, and when it came to the creation of 3.21 they knew exactly who to count on to turn their publication dreams into a reality.
The Design Process
The DSRF came to us with the idea of creating an all-new quarterly publication, full of stories from Canada's Down syndrome community. The publication would be distributed nationally through the DSRF and CDSS websites and social channels, with some physical copies made available for local communities. They needed a reliable team who could bring together their collection of stories, images, features, and ads into one glossy publication with an e-magazine to accompany it – and that's where Curve stepped in.
The DSRF had been putting out a newsletter for more than two decades but knew it was time to expand it into a more polished and professional magazine, similar to what you might see on a newsstand.
Now you might be thinking – why follow a traditional magazine format, and revive an old medium? "When you work with the right organization and audience, magazines are a great way to get your message out through the noise," says Amanda Bates, Curve's Vice President and client lead with DSRF. Our team worked hard to understand the wants and needs of the DSRF and their key audience. For the DSRF and their collaborative partners at CDSS, that meant creating a sleek magazine that would serve as a forum to inform and inspire individuals and families across the country. And for their audience, it meant having access to a publication that showcases important stories of families and individuals just like them. 
Curve developed the magazine's branding and aesthetic from scratch, creating a bright and professional template for the overall look of the magazine and its regular features, and from there it was up to us to bring the publication to life. With each successive issue, our collaboration with the DSRF continues to evolve as a publication for families and individuals with stories and advice from Canada's leading Down syndrome experts, parents and self-advocates.
The Results
The whole process was spearheaded by our Manager of Creative Projects, Kerry Slater, and after a couple of meetings, 3.21's look and format were created, along with the launch of a logo, all incorporating uplifting, bright colours throughout the publication to accompany the positive and encouraging stories within. "Creating 3.21 with the DSRF has been incredibly rewarding and has really allowed me to grow in my design work. With each edition of 3.21, I feel more and more at home with the DSRF team. They've allowed me to branch out with design and take artistic risks, which have paid off," says Kerry. And there's proof of Kerry's hard work, eye for design, and total understanding of DSRF's value as an organization on each page of 3.21.
So, what does the DSRF think of their shiny new quarterly publication? "We couldn't be more thrilled to partner with Curve Communications on 3.21: Canada's Down Syndrome Magazine," says Glen Hoos, Director of Communications at DSRF. "The product gets better and better. Our office proudly displays each of Kerry's magazine covers on our walls and we look forward to working together on this project for many years to come."
Are you interested in working with Curve Communications on your next design project? Our team works hand-in-hand with our clients to understand their business, brand, and initiatives.
To book an appointment with us, click here.