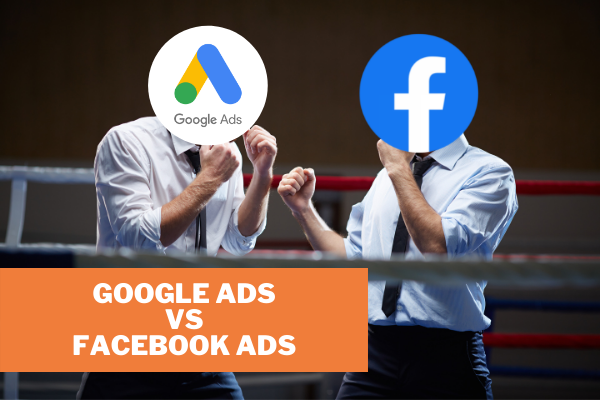 If you've ever considered paid advertising as a way to grow your business, you've definitely heard of Facebook Ads and Google Ads. But how do you decide between these platforms? Should you run ads on Facebook? Should you choose Google? Maybe both? Which one is better?
The quick answer is: it's not as black and white as you'd like, since each platform uses a different approach to reach your audience. In this blog we've highlighted some advantages of each, to give you a better insight into the options available to you.
With Google you can run ads on Google itself as well as on YouTube. The platform offers a variety of campaign options:
Search: ads that show up at the top of the page when a user actively searches for something. These are great for sales, getting leads and driving traffic.

Display: visual ads that show up in websites and apps. They help with brand awareness and reach. It's a great way to remarket to people that previously engaged with your business.

Video: ads that are displayed on YouTube and other websites. Use them for brand awareness, generating sales, driving traffic, etc.

Shopping: these show up on search results and the Google Shopping tab. Ideal if you are a retail business and want to display your inventory and generate sales.

App: use these ads to get new users for your app.

Local: great to drive physical traffic to your brick and mortar store. The ads will be optimized for Search, Display, Google Maps and more.
Overall, Google focuses on paid search and the main goal is to increase conversion. Three advantages of the Google platform are:
When it comes to getting a higher SERP (search engine results page) position, Google makes it easier to compete with bigger companies. What counts is ad relevance instead of budget.

The many campaign options help you reach your audience in different ways, at different stages of the buying cycle, ensuring you maximize your efforts and budget.

With Search ads, you have a higher chance of getting hotter leads and the customer is actively searching for your product.
When using Facebook, you can place your brand's ads on the social platform AND Instagram, Facebook Messenger and What'sApp. Think of it as paid social. Through Facebook, your customers may interact with other consumers, express their own experiences with your company, and remain up-to-date with your business.
Some of the many forms of ads you may use on Facebook are:
Image: the most basic (which doesn't mean boring!) and easiest-to-create option.

Video: best option for when you want to tell a history or give a demo of a product or service.

Carousel: perfect for showcasing multiple products! You can have up to 10 images or videos and each image can have its own link.

Lead generation: with this type of ad, you can create a custom form and gather a customer's information without them having to leave Facebook.
Facebook is all about interaction and brand outreach. The three big advantages of using Facebook ads are:
You can leverage your audience's habits & patterns for targeting. You can use very specific details to micro-target your ideal customers. And if you have an extensive database, you can target those people and those who look like them.

On Facebook you can easily engage with the users and create strong relationships with them.

You can choose a campaign objective, which will help Facebook to optimize your ads. If you want to increase awareness, you can choose between brand awareness or reach; if you're after consideration, your options are traffic, engagement, app installs, video views, lead generation, and messages; and if your main goal is conversion, you get conversions, catalog sales, or store traffic.
In the end, both advertising platforms are great allies to businesses that want to grow. The winning strategy is not Google OR Facebook – it's Google AND Facebook. The secret is in having a clear goal and the correct strategy.
If you're still confused and want help advertising your business, contact us so we can show you how Curve can help you.