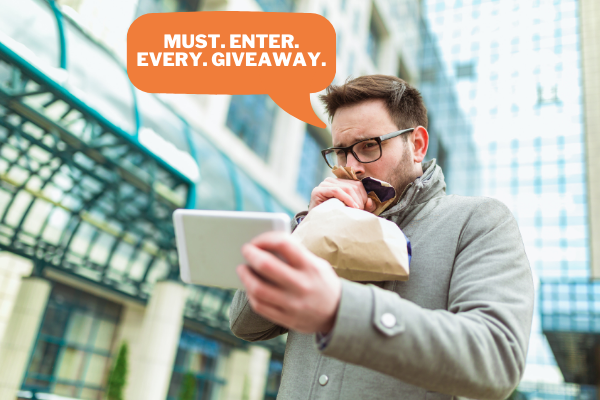 If you've been on Instagram for long enough, you've definitely seen many MANY giveaways pop up. In the back of your mind you're thinking, "Wow, how do they manage all of these entries?" 
Most of the hard work comes from planning; once the groundwork is laid, the latter half of the process is easy peasy. And if you follow these six steps, you'll be sure to run a smooth, successful giveaway. 
WHY are you running this giveaway? What's the purpose? Think about what you're trying to achieve.
Some examples could be to:
Get more followers on social media

Increase engagement

Elevate brand awareness

Crack into a niche market

Create hype about a new product launch

Get more leads

Drive traffic to your website/other social media channels

Increase sales
Without a goal, you're just giving away something for the sake of it. You need to focus your energy on one goal and one goal only. Because as much as you might want to, you can't achieve all of the above in one giveaway. 
Another thing to determine is the platform on which you want to run the contest. The most successful giveaways are held on Instagram, however this might not be the right platform for your goals.
Chances are, you have a prize in mind before you even have a goal. But that's not the case every time. It can be really frustrating to find a prize that's valuable enough to grab your audience's attention, but isn't going to cost you a fortune. 
One way to crack this is to partner up with another company that has the same values and audience. Don't get too ahead of yourself though! A company that's much larger than yours probably doesn't need to reach your audience. So strive for companies of the same scale and similar market.
Once you're in a giveaway partnership, you can now give away two prizes. It'll cost you less and bring more value to your audience. AND it's not like you have to split the amount of engagement, leads, followers, or whatever it is that you get. Sounds like a win-win situation to us.
3. Set the contest rules/criteria
This will all depend on the previous two steps. Say, for example, that your goal is to increase followers on social media; the contest entry criteria, therefore, should NOT be to provide an email address. 
On the other hand, your contest rules will depend on the platforms on which you run them.
Some of the most common contest rules to consider are: 
Time – set a time frame during which people can enter the giveaway. For example: "Contest ends on December 23rd. Winners will be announced on January 4th." 

How to enter – Some examples: "Follow us on Instagram;" "Tag two friends in the comments;" "Fill out this form."

Who can enter – Some examples: "Only those living in Canada are eligible;" "Only open to people over the age of 19."
This part is the easiest out of all the steps. You want to make sure that the images and graphics that you use in the giveaway post are enticing, and that the copy you write is exciting. When you have this covered, you're all ready to launch.
You'll want to see how well your giveaway is doing in reaching your objective. Make sure to use the correct KPIs, otherwise your data will be meaningless.
What I'm trying to say is, if you're trying to collect emails through a giveaway, don't measure the number of new followers you have on Instagram, that is completely irrelevant information.
6. Choose and announce the winner
If you're using a form to gather emails or other contact information, you will get all your entries in one organized list, so this method is the easiest way to choose a winner. 
For small-scale giveaways, choosing a winner will be relatively easy to manage manually. Using a simple spreadsheet and assigning numbers is the best way to go. Once you have people assigned to numbers you can use a random number generator to choose your winner.
Some of our favourite random number generators are:
You don't need anything too complex for this – just a simple random number generator will do. 
The trickiest giveaways to sort through are large-scale giveaways where you receive thousands of Instagram comments. Luckily Wask will sort through all those comments for you and choose a winner.
We've given you all the steps to launch your giveaway, but if you don't have a strong social media presence and need some help, we're here for you. Contact us and we'll lead you in the right direction.