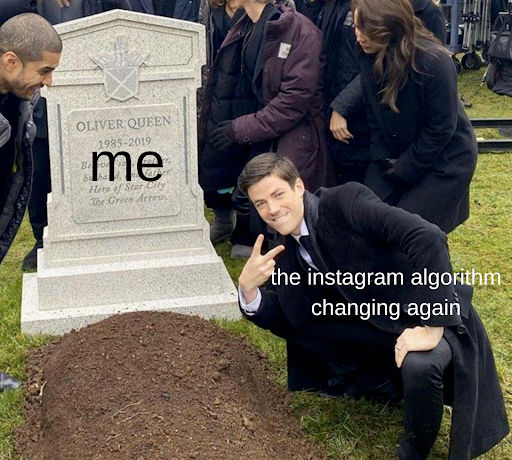 Instagram has finally shed more light on how its algorithm works. This is huge for marketers because it will change how we develop content for Instagram while also removing some of the guesswork we've had to do in the past few years. In this post, I'll go over how to work with the new Instagram algorithm and what you need to know about it.
Over the last few years, the Instagram algorithm has undergone many changes and alterations. The first notable change was when they altered the Instagram feed and stopped showing posts in chronological order, instead showing what would be most valuable for the user. Instagram had determined that this was a necessary change in 2016, claiming that most people were missing 70% of all the posts in their feed, including almost half of posts from their close connections. However when the algorithm changed, many people saw a massive drop in engagement, and as these changes to Instagram's algorithms continued, they have been a source of frustration for many creators and companies. So… what's changed now?
How Does Instagram's Algorithm Actually Work?
In June of 2021, through a series of blog posts, Instagram finally revealed exactly how their "algorithm" worked. This shed a lot of light on what people have been speculating for years but were never 100% sure of. Interesting findings and confirmations included the following: 
When using Instagram, whether it's the Feed, Explore, or Reels page, each section uses its own algorithm based on how people use and interact with it. When going through their Stories, users more likely want to see close friends or people they know personally, versus wanting to discover something entirely new when in Explore. Instagram ranks things differently in different parts of the app, based on how people use them. The system predicts your level of interest in the material; if it believes you'll enjoy the substance of a post, it will prioritize it in your feed. A few data points influence this, including:
What kind of content have you previously engaged with?

What accounts have you subscribed to?

Which posts in the Explorer Feed have you clicked?
For example, if you shop online a lot, your feed will show you posts from users who align with what you've been searching for and purchasing online. The algorithm is attempting to provide people with material that they wish to consume.
Instagram has defined some key features that are used to determine how posts get ranked:
1. Information about the post
How successful/popular a post is 

When it was posted

Length of time (if video post)

Location

Whether people are quickly liking, commenting, sharing, and saving a post

For Reels, what is the content within the video, such as trending/popular audio tracks
2. Information about the person who posted
Whether the person is deemed interesting or relevant to your online behaviour

How many times people have interacted with that person in the past few weeks

Whether the person's content is popular and frequently interacted with
3. Your activity
What do you normally like

What are your interests

Signals like what posts you've liked, saved or commented on and how you've interacted with posts in the Explore page in the past

Reels you have liked, commented on, and recently engaged with
4. Your history of interacting with someone
People you interact with frequently are more likely to show up higher in your feed

How interested you might be in what a person has shared

Whether you have interacted with the person before, and whether their content is consistent with what you like
5 Instagram Management Tips You Should Know
Now that you know a little bit about how the algorithm works, here are some Instagram tips you need to know. 
And don't forget: you don't need to be an expert when you're starting out. Start with what is realistic for you to accomplish, and concentrate on what you're good at and what people seem to be liking. Always be authentic!
1. Deliver High-Value Content and Post on a Regular Basis
Remember that Instagram wants you to stay on their platform, so if you post on a regular basis, Instagram may show your page to more people. Another tip is to keep track of your posts that receive the most saves and interactions, and upload more content like that. Saves are a great way to see which of your content is actually providing value to your audience.
2. Connect With Other Accounts Within Your Niche
Look for accounts within your niche that have more followers than you do, or that seem to be performing well. You can reference what they're doing if you're stuck for ideas, or start interacting with their content. By doing so, you may end up attracting their audience to your page.
3. Use Hashtags! (Yes, they still work)
Ensure the hashtags you use are related to your material, and stay away from overly popular hashtags. Add them to your posts, but also to your stories! Hashtags on Instagram now have their very own global stories, and it may be a great way to find new audiences and be seen even more.
4. Use Stories to Increase Engagement, and Provide Value to Your Audience
Attract followers to your content by creating valuable Instagram Stories. Take advantage of the stickers feature, and create polls, questions and answers, or other fun content. Let your followers be curious, and make them feel included!
5. Engage With Your Followers
Don't leave your followers feeling alone. Interact with them! If they're interacting with your posts and stories, reply to them and thank them, or answer the questions they may have. As we've learned, the algorithm increases your visibility to people who are interacting with your page. It's an easy way to make a major impact on your audience.
Instagram engagement is sometimes hard to come by, even when you have a large follower count. But by understanding and working with the algorithm, you can find your way back to the top of the Explore page. Social media is about being social — and Instagram, more than ever, is rewarding people for doing just that.
Need some help getting started? No worries! Contact us and we'll get you set up with a social strategy.