01

Overview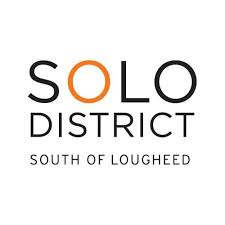 Public Relations: How Curve Generated Awareness for Appia Development's SOLO District
Selling a brand new product requires a certain finesse – especially when that product is real estate.
How do you convince buyers that property in your development is worth purchasing, and even more importantly, living in? That's where Appia Development was struggling when they approached Curve.
Using a savvy public relations strategy, we generated buzz for Appia's new community. Keep reading to see how we did it.
About Appia Development and SOLO District
When Appia Development was about to launch the second phase of its SOLO District Community, the company knew they needed professional marketing help.
This development is located in Lougheed and Willingdon in North Burnaby. The multi-use development was designed so residents could live steps from everything they needed – groceries, doctors, dentists, liquor stores, restaurants, transit, and even work.
Appia needed a PR plan to generate awareness about the community. They needed to highlight its unique features and distinguish it from neighbouring Brentwood developments.
Develop a Custom PR Plan/su_button]
Finding + Appealing to the Target Demographic
Most people don't just walk into a sales centre once and buy a condo. Appia needed to generate a buzz about SOLO District in a strategic way that got people talking and coming back for more information.
The development was set to include four towers with residential and commercial space when completed. Its location next to the Expo and Millennium SkyTrain lines made it very desirable for people who worked downtown. The Curve team understood the target audience; we just needed to reach them.
Mainly, we needed to focus on boosting overall awareness of the SOLO District Community.
What did it have to offer? Who would it benefit? Who needed to know about it?
The Solution: Public Relations + Social Media + Event Management
In our first campaign, Curve placed a giant, inflatable "Google pin" on the SOLO sales centre roof.
People driving or walking by instantly noticed the development. Our goal was simply to generate awareness, and such a huge, visible promotion certainly did that.
We then encouraged active participation with the giant pin. Curve challenged people to Tweet photos with the pin, using the hashtag "SOLOPin." They could also post or comment on Facebook for the chance to win one of four gift cards to Joey Restaurants or Browns Social House.
Our campaign, combined with smart social media engagement, increased traffic to the SOLO District Twitter handle and Facebook page. In fact, it boosted "likes" on Facebook by 69 percent – a dramatic increase for such a short timespan.
Thanks to our initial "pin" campaign, people started talking about SOLO District. When the launch rolled around, the development had people lining up outside the sales centre door and down Willingdon Avenue.
Still, creative branding and promotion for the community was an ongoing process. That's why we came up with the idea of hosting a SOLO District block party. After phase one was complete, people could come to have fun and learn about the community.
At the party, participating businesses manned booths where they showcased products and special promotions. There was food, music, face painting, prizes, and free samples for passers-by.
In addition to planning the block party and liaising with vendors, Curve's event management team designed all of the creative materials. We ordered two huge balloon archways, booked entertainment, and managed the advertising campaign. Social media and day-of logistics were also our responsibility.
Long-Term Prosperity – for Everyone
In the end, the block party was a huge success. Thousands of people came to SOLO District for the event.
After the success of the launch and party, we worked with Appia for several years. Our team:
Ran the SOLO blog
Produced content for media buys
Organized social media campaigns for the website
Liaised with members of the North Burnaby community for contests
Managed social media accounts
Photographed the construction progress
Planned special events
With the help of our efforts, the second phase of SOLO District, Altus, SOLD OUT. Our creativity effectively sold SOLO's features and helped it stand out from the competition.
The Lower Mainland real estate market is extremely competitive, but SOLO District had all the right features to outshine the competition. We just needed to get people imagining what life could be like if they bought in the development.
Need help generating real estate awareness or marketing a new property?
Contact our digital marketing agency today.