01

Overview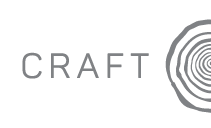 Manufacturing Marketing: Boosting CRAFT's Engagement Rates by 125 Percent
As manufacturing companies expand, they sometimes outgrow their brands. It happens – products evolve, customer needs change, and business philosophies shift. Sometimes, a brand gets outdated and requires a full makeover. That's what happened with CRAFT Artisan Wood Floors.
After nearly two decades as Antique Impressions, it was time for a makeover. The company developed a new brand, CRAFT, and then they needed to tell the world about it. That's where we came in to help.
About CRAFT Artisan Wood Floors
CRAFT Artisan Wood Floors has long been committed to creating exclusive small batch, handcrafted hardwood flooring. Based in Burnaby, BC, the company's flooring collections are designed and manufactured with strict adherence to quality, originality, and service. They're committed to promoting a sustainable environment in their manufacturing processes, while impressing customers with their product range and styles.
Starting from Ground Floor
Curve was hired to generate awareness about the brand through social media and other outlets. We were also asked to increase leads with Google, Facebook, Instagram, Pinterest, and Houzz.
With a fresh brand, the company needed to establish itself as a premiere artisan wood floor company in international markets.
Whether a manufacturing company produces tools, wood floors, or another product, customized marketing is necessary to ensure continuous growth and to maintain a polished, professional brand.
Most manufacturers understand this, but employees don't always have time to deal with marketing tasks. That's why it helps to partner with a digital marketing agency like ours.
The Solution: A Combination of Branding and Manufacturer Marketing
Our manufacturing marketing team took the time to learn CRAFT's needs, then functioned as part of their team in meeting them. We obtained stellar results for their marketing managers while also taking the burden off their shoulders. Even though CRAFT was working on a tight schedule, we prioritized learning its brand backwards and forwards – as all marketing agencies should.
We knew the fix to CRAFT's challenge was to strategically combine branding with manufacturer-specific advertising tactics – and that's exactly what we did.
Highly Improved Engagement Rates
Since Curve started working with CRAFT, engagement rates are up 125 percent and ads have received hundreds of thousands of impressions and clicks. Thanks to this success, the company has expanded its digital advertising strategy into new markets across North America and continues to drive impressive results.
At Curve, we understand what it's like to have an ever-growing to-do list. We've worked with manufacturing companies for years, helping time-strapped marketing managers:
Build successful campaigns
Attract new talent
Launch the branding design process
Conduct redesigns and makeovers
See how our manufacturing marketing services can benefit your company.
Contact Curve Communications today.