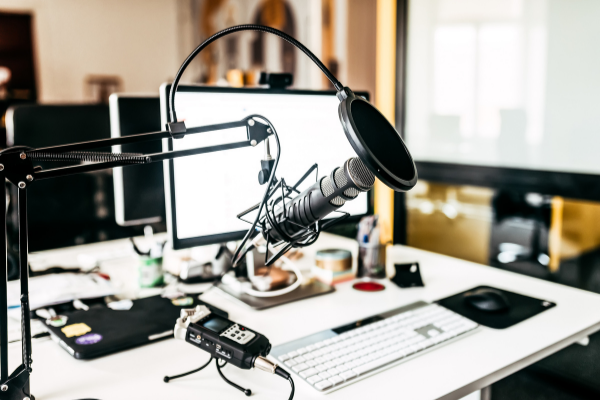 We live in a digital era. Therefore, modern-day users expect different types of content to suit the respective needs. Not everyone out there will have ample time to go through a 1000-word long post. While some prefer video content, there is an increasing population who love podcasting. Wish to give your business a boost through content? Let us show how podcasting can help your venture!
Podcasting is serving to be a great way for modern businesses to reach the target audience while the users are in front of their computer or mobile device. The best part? There is no need for you to be an experienced content creator to learn how to podcast for your business.
Podcasting for Your Business
Unlike visual or text-based content, podcasts are great to listen when you are doing something –whether running on the treadmill or commuting to work. Putting on your headphones as you are doing your day-to-day chores is something a listener will always choose.
It has now become seamless to go through podcasts. The revolutionary Bluetooth technology allows people to enjoy them in their vehicles. The Podcast app by Apple comes built-in with every iOS device. You can subscribe to the desired podcast within seconds.
Podcast is high on demand. With the ever-rising concept of on-demand listening, podcasts are gaining huge impetus in the modern business scenario. It is estimated that there are over 800,000 active podcasts along with over 54 million episodes available out there.
As a business owner, you should leverage the immense potential of this next-gen technology catering to the specific needs of your target audience. Whether you are new to creating a podcast or a seasoned player, we will help you know about the best ways to promote your business podcast.
Benefits of Podcasting for Your Business
The podcasting domain has offered a new way to target the right audience for your business. People have become hooked to listening podcasts. This is because it serves to be an easier way to absorb ample information.
Still confused whether or not you should start a podcast for your business? Here are some reasons to make you think in its favour:
Building Personal Connection
It is a different experience to build connections through visuals or a written piece of content. When you are on a podcast, you are able to open up more. The audience gets to hear your voice daily or weekly. You can leverage interesting themes and running jokes for building a notion of trust and personal connection.
Open up to the listeners for building a relationship for the long run. Voice is capable of engaging audiences significantly in comparison to written words. This helps in building trust.
With podcasting, you should not be worried about your target audience being busy. The best part about podcast listeners is that they can consider downloading their favourite episodes while listening to the same at a later point of time. Driving, working, jogging, or relaxing –irrespective of the situation, podcast listeners can consume its information without any hassle.
When listeners subscribe to the podcast feed of your business, they can receive downloaded episodes automatically on the respective device upon the release of a new podcast. It is quite fast than typing keywords on the desktop or searching for the desired video.
As your podcast starts becoming successful, you can consider investing more to improve its overall quality. While you might be only starting out in the journey, it is fairly simple to achieve the same. For launching your business podcast, all you need is access to a computer system, a mobile device, an editing software tool, and a reliable Internet connection.
Improved Traffic Generation
Like other types of content, podcasting for businesses can help in reaching out to new target audience for building familiarity. Listeners subscribe to a particular podcast to which they can listen regularly.
When you are consistent in your efforts, the target audience will continue listening to your podcast. Therefore, it helps in increasing your reach while leading to improved traffic and lead generation.
Top Ways to Get Your Podcast Heard
There is a stark difference between launching your podcast and getting the same heard by your target audience. To ensure the same, you need to go through the following tips:
Invest in Proper Equipment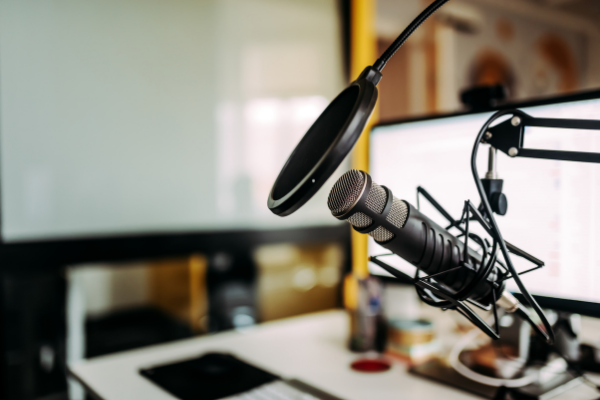 While it is not expected to put in thousands of dollars into finding the right podcast equipment, you should still have access to the right equipment set to start off with.
One of the most important tools of a successful podcast is a good quality of microphone. Eventually, a good podcast featuring an impressive sound quality is assured to get success. When you have access to a decent headset, a microphone, and some standard editing software tools, you can ensure a major difference in the overall sound quality of your business podcast.
The theme of the podcast determines its success significantly. This does not imply that you should go for choosing a topic you feel will be capable of capturing a larger audience. It implies that you should select a theme that you are capable of committing to in the long run.
When you are truly passionate about what you will be talking about in the podcast, it will resonate with others having the same passion. It is important to be genuinely interested and informed in whatever you aim at talking about. It will help in keeping your audience engaged throughout.
In addition to this, there is a higher possibility that the listeners might consider sharing the podcast with others having similar interests. Stick to something you are aware of and passionate about.
There is no denying this fact. However, it is interesting to know how a number of to-be podcasters are focused on the artwork, title, and launch of the podcast. Eventually, they forget about the most important aspect –the podcast itself.
Like everything else, you are expected to practice podcasting effectively to ensure success in it. When you wish to have a successful podcast, you should aim at becoming a good podcaster in the first place. The only way to ensure the same is by being consistent in recording.
Continue learning and honing your podcasting skills. Eventually, you will reach a stage wherein people will start enjoying listening to what you will create.
As you start creating and posting your podcast, you will eventually start receiving comments and feedback from the listeners. Some listeners would like you to modify the format, while others will have special requests for some guests.
While it is recommended to listen to your audience as well, it is equally important to ensure that your podcast remains in its truest identity.
It is not always necessary to include your audience in everything related to the podcast sans listening. A podcast that is capable of sparking real conversation will definitely turn out to be more interesting than the one just going with the flow.
As a business owner, you should be decisive. Therefore, take control of the direction of where the podcast is going and where you want the podcast to be in the long run. Have a strong opinion about your podcast marketing skills.
Most individuals do not realize the fact that Google Podcasts and iTunes are search engines. Therefore, you should consider including some relevant keywords in the descriptions and titles of the podcasts. It will offer a boost in its overall rankings. However, it is equally important to note that you should not go overboard with including the keywords.
When you have relevant keywords in the title, subtitle, and description of the podcast, it will make it easier to search your podcast. It will definitely boost the success of your content.
Draw the Attention of Great Guests
Guests are immensely valuable factors determining the success of your podcast. When you have expert guests for the content, they will have interesting and intelligent things to share on the pod for the listeners. At the same time, they are most likely to bring more followers to your pod.
You might be adept at the given podcast topic. However, it is always valuable to hear some different perspective – both for your business and your target audience. If you have received the opportunity to host guests on your pod, ensure that you are treating them with ample respect.
Podcasting is a powerful marketing tool that is here to stay. Podcasts are easy to listen, accessible, and need minimal effort for the end users.
It serves to be an impressive marketing tool for modern-day businesses. Moreover, it is also a leading branding vehicle. Give your startup or seasoned enterprise a boost by creating meaningful podcasts and sharing the same with the target audience. All the best!