We're all experts at working from home now. We've Zoomed until the cows came home… and sometimes they came home in the background of our Zoom calls. We should all be experts at making our videos and calls GREAT by now, right? Wrong.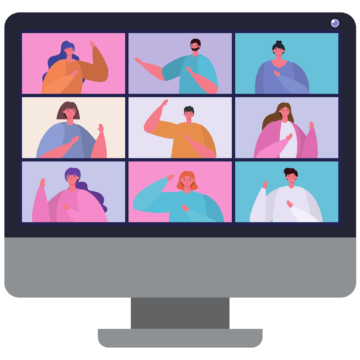 There are still many mistakes being made – some because we just don't care anymore because 2021 is almost as long as 2020 already, but some we were never that good in the first place. It's not too late – because video calls are here to stay for-EVAH.
Here's my five step guide to making you look the best you can, without forking out a fortune in Hollywood-studio-grade gear.
Not all lights are created equal
I'm pretty sure shares in ring lights went as sky high as Peloton bikes this past year – but let's just be clear, while a ring light can offer Instagram-filter-esque balanced glows to many of us, they aren't a fit for everyone.
If you wear glasses in particular, ring lights can sometimes have the horrific effect of making you look like a mad owl, reflecting those circles into your lenses, sometimes positioned right around your irises,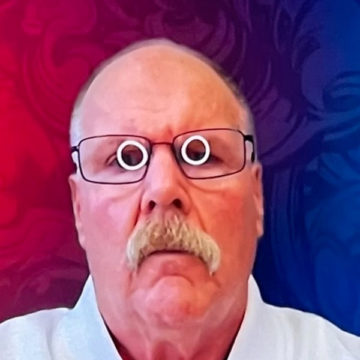 and completely detracting from anything smart you want to say. The results of a pre-SuperBowl press conference on Andy Reid's glasses are a perfect example, and memes about him started trending almost immediately.
If you've already invested in a ring light and you wear glasses, to prevent a similar issue, you need to put the light up higher than your face – so it's not shining directly at you – and then angle it down slightly. You can also adjust the brightness on some lights, so play around with that, and make it a softer, less blue light.
The go-to should still be good old-fashioned natural light wherever possible – putting your computer or camera between you and your natural light source. Ideally, avoid direct, bright sunlight – if the sun is out and offers you any more than a full-face, balanced soft light, using sheer curtains can filter that nasty blinding-light, and diffuse the rays so you look glowy, and the way nature intended.
Do You Want Chins With That Face?
It's a fairly well-known fact that we should never have photos taken from below our eye-line, and the same goes for video. If your work-from-home desk setup is normal, your computer is likely well below your eye-line.
For video calls, put your computer on some books and get the camera lined up as close to your eye-line as possible. Even better, if you have a stand-up desk, crank it a bit higher than your eye-line. A camera shooting down rather than up, will banish extra chins and will make your head into more of an inverted triangle shape, which is more appealing than it sounds.
As well, make sure you know where the camera is on your device! This couldn't be more 'page one', but it's incredible how many people are still looking at the person they're talking to on their screen, rather than the camera. This is fine and not super noticeable on a video call, but for a TV interview, your face will be magnified, and where you're looking becomes more apparent.
How You Sound Is Just As Important As How You Look
Terrible quality audio will probably be the worst legacy of all the videos created during lockdown. You can obviously hear yourself in your room perfectly well – but honestly MOST of the videos and calls I've been on this past year, and many of the videos and podcasts I have listened to, have had awful telephone-quality audio, which can be caused by a number of issues.
Firstly – your microphone. You might have a really great computer, but that doesn't mean the microphone is equally fantastic. Use an external mic wherever possible – and this might be one that is built into your headphones. You will need decent headphones though, so invest in something decent if you're doing this a lot. Know that anything nearer your mouth will be better than a further-away computer mic that picks up all the sounds around you.
As well, your wifi is going to be really important when it comes to the audio quality. Of course we only really think about the wifi quality when we can't SEE people due to technical issues, but it can also really affect the sound without us realizing, because – see above – we can't hear what we sound like to other people. For live calls, it's not necessarily the worst thing in the world, but if you're making videos that you want to last longer, invest in some audio gear that will enhance the quality of your voice.
Background Check
There's a lot been said about the backgrounds we've all had to show to our co-workers this year, and if your video is going to be seen by a wider audience, there's the danger that something you've left lurking on a shelf could lead to a swift cancellation of your career.
Be aware of what's behind you, test out your video beforehand by setting the camera to selfie or video mode, and then move ANYTHING that could detract from – or worse, become the focus of – your on-camera performance.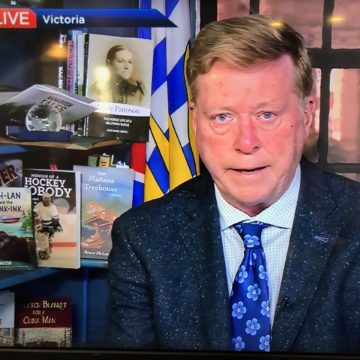 Now, I'm not Keith Baldrey's boss at Global BC. But if I were, then my first order of business would be permanently clearing off the shelves of books he's untidily promoting during a global pandemic. Sure, we've all been straining to see what's in the living rooms of our favourite celebrities for more than a year now – but it can look messy (especially if the books are falling over like in this photo), and cheap.
Be aware that your background can become more interesting than you, and know that your face, and what you are saying, competes with every single thing around you. Check your background before you click the Zoom link.
Oh – and number five – don't forget to smile!
Have questions about marketing or communications? Schedule a quick call with us today!