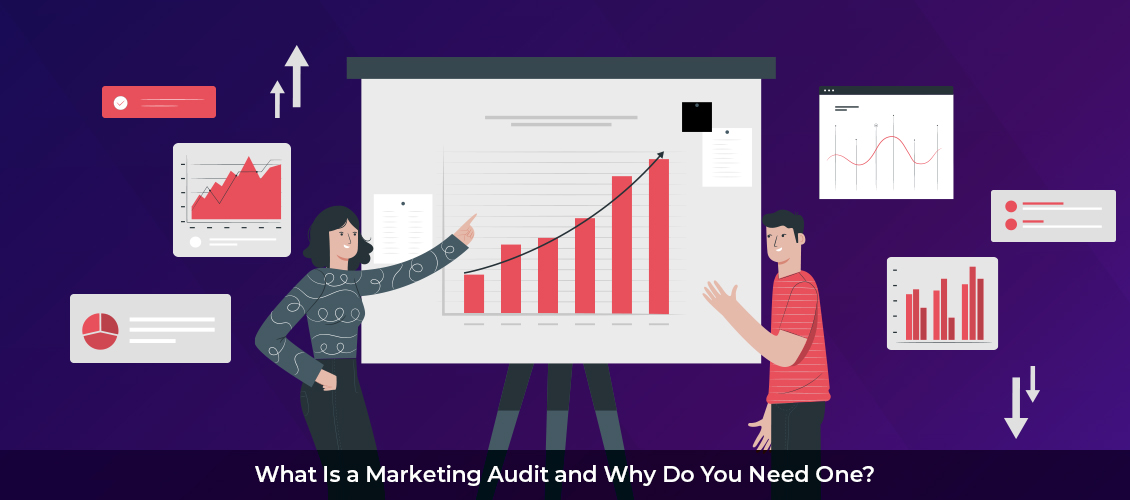 You've heard the term "marketing audit" float around before, but what is it? And do you really need one, or is it just another unnecessary paid service?
Well, let's start by explaining the concept of a marketing audit.
Professional marketing audits involve a comprehensive analysis of your brand's marketing environment, both within the company and outside. Experts thoroughly examine your goals and strategies to figure out where you're succeeding, where you could do better, and where your best opportunities lie.
Do you really need one? The resounding answer from any marketing guru is yes.
Audits give you the opportunity to adjust your marketing course, and therefore draw in more revenue and consumer attention.
In recent years, a whopping 89 percent of marketers ranked "improving the ability to measure and analyze their marketing impact" as a top priority. The best way to do that? Conduct a high-level audit – or have a professional do it for you.
One marketing audit every once in a blue moon isn't going to cut it, though. Let's take a deeper dive into the ins and outs of professional marketing audits to understand why. We'll talk about how they continuously help your brand improve and grow.
If we've done our job right, by the end of this post, you'll be scheduling your next audit for the benefit of your marketing efforts – and overall business.
A. Understanding the Importance of Marketing Audits
Before we go any deeper, we want to talk a little bit more about the sheer necessity of strong audits.
Over the course of months and years, your marketing campaigns change – whether you intend for them to or not. Conducting an audit draws you back to your central course of action so you can readjust campaigns accordingly. Without an audit, you'll struggle to stick to your measurable goals – and you might not even realize when you've lost sight of your main objectives.
If you don't already have goals in place, a marketing audit will force you to set some. We know it's easy to get lost in the big picture of your overall business dreams. However, it's essential that you outline your specific marketing goals so that you understand exactly how they play into this bigger picture.
During a marketing audit, you won't just look at your goals. You'll also weed out unsuccessful tactics, gather powerful information, and learn to make better judgment calls in the future.
Here at Curve Communications, we begin each of our marketing audits with a three to four-hour discovery session. This gives us the opportunity to reveal just how influential an audit can be. We'll get to know the nitty-gritty details of your brand, then proceed with a targeted plan for marketing analysis and adjustment.
B.Explore Your Promotional Environment
One of the biggest benefits of a marketing audit is its focus on your promotional environment. Your marketing "environment" is the field in which your advertising (inbound and outbound) efforts play. It includes your target demographics, local economics, politics, social changes, and so much more.
If you want your marketing efforts to strike hard, you need to understand the field you and your competitors are facing. Up to 61 percent of marketers state that their top challenge is generating traffic and leads. The more you understand your landscape via an audit, the easier it will be to enact marketing that works.
C. Get an Outsider's Point of View
Wondering if a self-audit would suffice? In some cases, maybe, but there's an enormous benefit to gaining an objective point of view on your marketing tactics.
An effective auditor should have:
An auditor within your company will likely struggle to stay entirely objective. They'll understand the reasons and first-hand efforts behind your current marketing strategies, which will make it difficult for them to detach themselves and really find your weaknesses.
If you want to learn from an audit, we suggest hiring an agency that specializes in the process. They'll be more prepared (and experienced) for rooting out your problems while identifying your strengths.
D. Re-Evaluate Your Marketing Organization
A marketing audit doesn't just look at your overall results. It forces you to examine your company's current structure, advertising policies, and management style.
Your marketing success starts from within. If there is a weakness in your marketing team's organization, then your outward efforts won't reap the rewards you're seeking. A professional audit will help you gain insight into your core system.
During an audit, you'll learn how to:
Think about it this way: if you're trying to sell a house, you don't just fix up its curbside appeal but leave the inside messy and outdated. A great marketing audit will help you clean inside and out, improving the value of the entire system.
E. Different Kinds of Marketing Audits
One last thing: we need to talk about the different types of marketing audits out there. It's important to understand how these each help your business and how each kind will serve your efforts.
1. Macro Environment Audits
The word "macro" means "large-scale." Therefore, a macro environment audit takes a look at all of the big-picture and external factors that influence your marketing. These include (but are not limited to):
Analyzing these big-picture concepts ensures that your marketing messages aren't tone-deaf, offensive, or off-putting. To advertise to the fish, you need to take a swim in the surrounding ocean and understand the current layout – and a macro environment audit helps you do that.
2. Micro Environment Audits
Micro refers to "small-scale" concepts, so a micro-environment audit takes a look at internal factors impacting your marketing success. These include:
As we said before, a marketing team that's inefficient will struggle to craft an effective marketing strategy. It's just as important to analyze what's within as what's outside.
Finally, a "marketing strategy" audit focuses on the totality of your current visions and goals. Professional auditors will help you understand if your current marketing process aligns with what your business truly wants/needs. If it doesn't, the audit will point out where you can better match your strategy to your goals.
Only about 58 percent of marketers say they "often" succeed in achieving their marketing goals. Increase your chances of doing so by understanding where your strategy is compatible/incompatible with your objectives.
F. The General Audit Process
Now that we've given you an overview of marketing audits, let us explain how the process typically works. Keep in mind, the process looks a little different for each company. These are the general steps you can expect. 
Step 1: Pick Your Auditor
As we said before, you could conduct a self-audit. However, outside audits are generally considered more reliable due to their specificity and objectivity. If you really want to know where your problems lie, you need an outsider to point them out.
As you choose your auditor/marketing consultant, question their experience. Do they have the skills needed to provide excellent recommendations? How many audits have they conducted before?
After you've found your auditor, talk about your timeline. When do you want your marketing audit to start? Are you planning one audit now, or are you scheduling multiple for the year to come?
Our professional recommendation is to make plans for regular audits – not just one big check-up. This ensures that you're frequently adjusting your plans for the best results. It doesn't matter how great your marketing team is – things change, and your marketing strategy needs to change with them.
Step 3: Determine Your Goals
Next, think about why you're conducting an audit. What do you want to learn? What will you examine? What improvements do you hope to make?
It doesn't matter if you're conducting a self-audit or hiring a company to do it. Clarifying your objectives early on will ensure you're following the right audit process.
Even if you're working with a talented team, it's a good idea to go over your audit plan before you start. Work together to identify your:
Finally, it's time for the big job: gathering the data. This is what you hire an outsider to do, efficiently and objectively. It's a tedious, but crucial, aspect of any audit.
A professional auditor will gather data by reviewing your:
To gather some of this data, the auditor will need to ask questions from your employees and other team members. Information is often gathered via surveys, questionnaires, or even interviews.
Once all of the important data has been gathered, the auditor will prepare it for analysis.
Step 6: Analyze That Data
Although gathering data might be the hard part, analyzing data is the crucial part of any audit. This is the step in which you learn what you're doing right, as well as what you could do better.
Using their own tried-and-true methods, an external auditor will analyze for:
Step 7: Study the Environment
Before providing recommendations based on the data collected, the auditor will also study the environment in which your team is marketing. As we discussed before, your "promotional environment" includes political, economic, and social factors that could influence your marketing capabilities.
Finally, your auditor will deliver their findings, as well as their recommendations for a more successful marketing future. This is your chance to learn from the audit. Understand what your priorities should be and how you can address weak points within your strategy and team. 
The marketing team's work doesn't stop after the recommendations have been delivered. You'll likely want to bring the rest of the company into the loop by sharing the audit's results. Find company-wide strategies for boosting marketing efficacy and bringing in more sales. 
Marketing breathes life into your business. It's the element that keeps customers coming and your business on track. When your marketing is unhealthy, so is the rest of your brand – which is why a regular audit is so incredibly essential. Think of it as your business's annual – or bi-annual – checkup.
At Curve Communications, we provide full-fledged discovery sessions and marketing audits to help you grow your business. We'll take care of the heavy lifting – like analyzing your inbound and outbound marketing efforts, as well as campaign conception and planning evaluation.
Let's find out where your marketing strengths and weaknesses lie. Call 604-684-3170 or reach out online to begin your Curve discovery process today.