It doesn't matter what products or services your manufacturing business offers. Your landing page strategy is the first chance you have to impress customers. It needs to stand out and seamlessly nurture interest into revenue.
A strong landing page incentivizes viewers to take action and jumpstart the buyer's journey. If you're not converting any visitors into customers on your landing pages, you need to take a second look at your current strategies.
Today, we want to share some landing page tips we've picked from years of working in the industry. These words of wisdom will help you elevate your manufacturing landing page and score more interested leads, right from the get-go.
Before going ahead with the landing page strategy, let us see what are some of the key components of best converting landing pages.
A. Key Components of the Best Converting Landing Pages
1. Attention-Grabbing Opening Line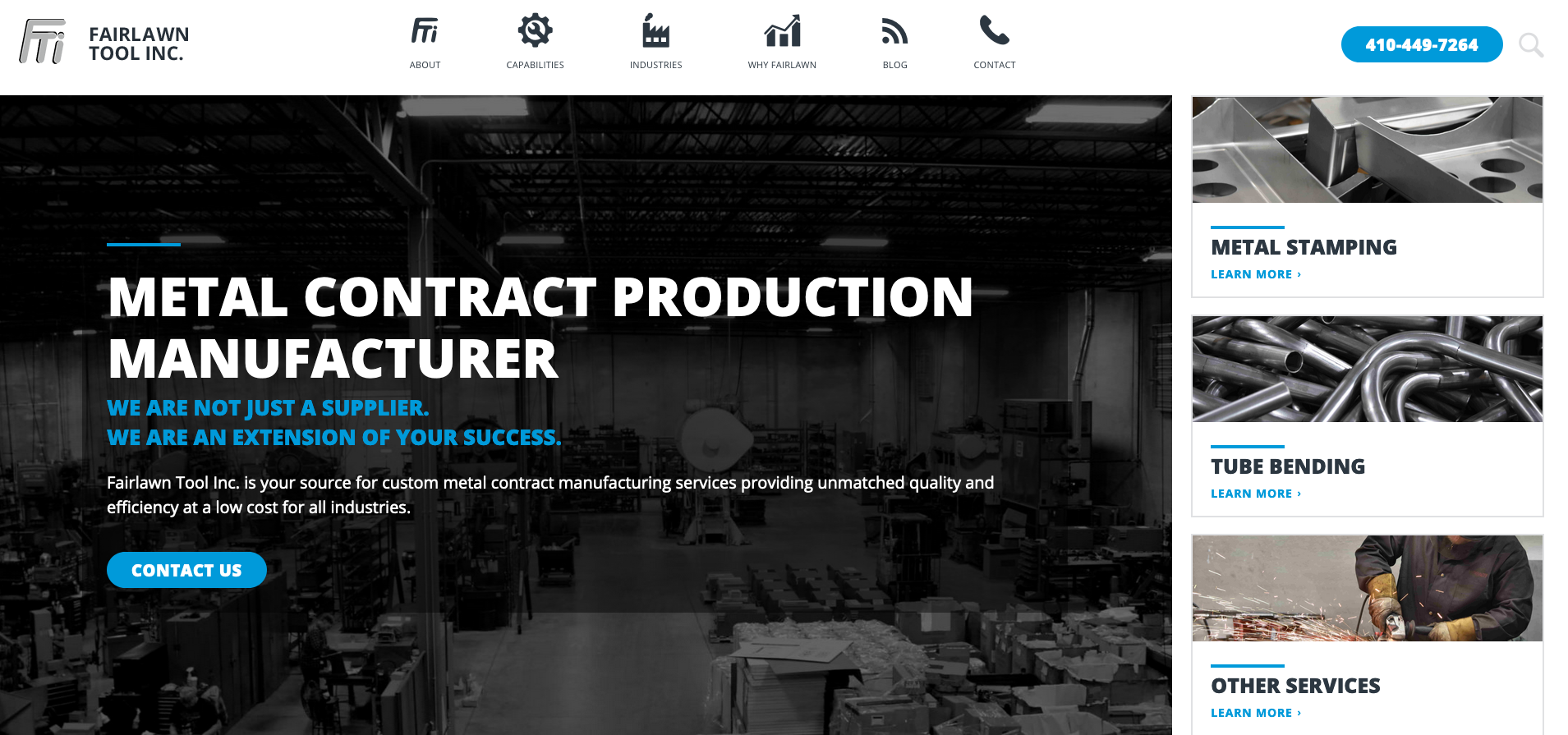 To take your landing page to the next level, one of the first things you'll need to do is create a witty, captivating headline. You only have 8 seconds to make an impression with your landing page – so you need something that's truly attention-grabbing.
Your goal is to immediately convey what your brand has to offer and encourage users to take action.
Content is the foundation of any landing page. The body text should reveal how you can solve customers' manufacturing problems through bullet points, brief paragraphs, and hard-hitting facts.
Remember: too much text on a landing page can be distracting. You need to include just enough copy to make a point, but not too much that would overwhelm viewers.
To have a solid lead generation landing page, you need a strong call-to-action (CTA).
Incorporate a CTA that instantly captures viewers' eyes. It should have powerful, contrasting colors compared to the rest of the page and quick, punchy text.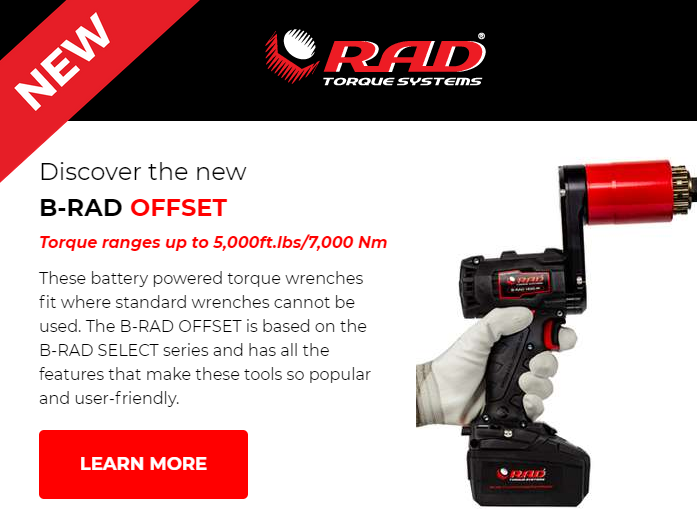 Keep in mind, below-the-fold CTAs can generate up to 304% more conversion lift than landing pages that have above-the-fold CTAs. We suggest working your way up to a strong call-to-action rather than throwing it in your reader's face as soon as they open the link.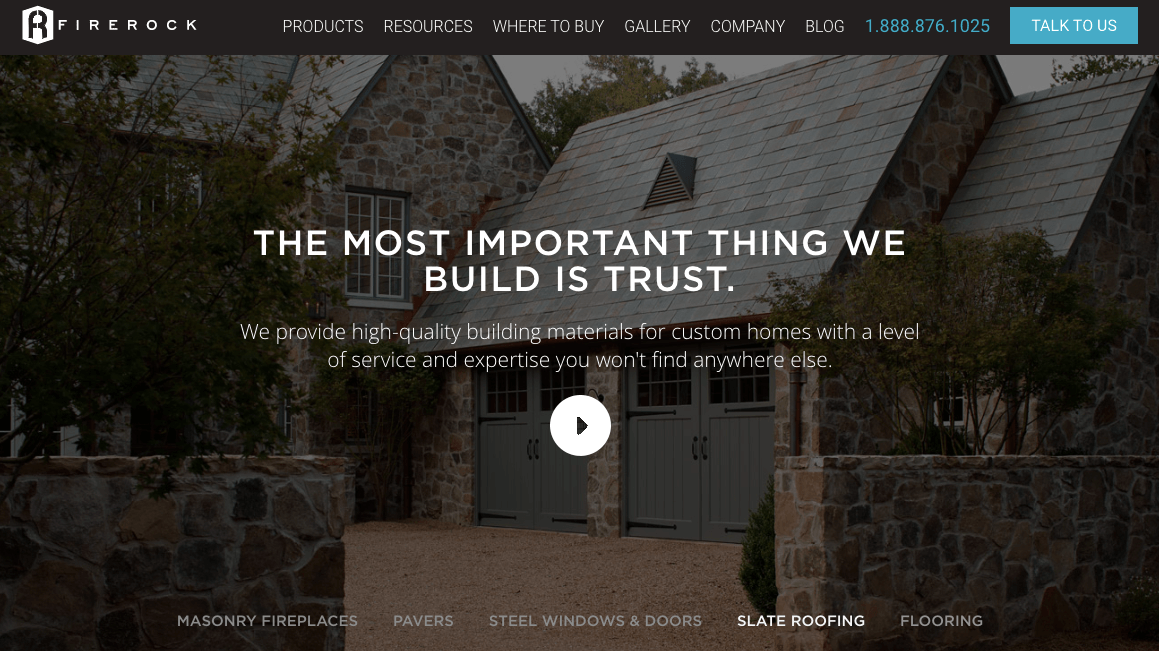 Another excellent landing page strategy is to create trust with each of your visitors.
How do you do this?
Through testimonials, customer reviews, and quotes from real (hopefully recognizable) people).
Social proof goes a long way toward convincing buyers that your manufacturing business is credible. Help customers make immediate decisions on your landing page by showcasing what other customers and authorities have to say.
You may also want to flaunt a few endorsements or third-party credentials to polish up your reputation a little more.
B. How to Develop Your Landing Page Strategy
1. Define Your Landing Page Goals
As you learn how to brand your business through a customized landing page, think about what your goals are. Why exactly do you want to garner more conversions through your landing page? What do you want the page to say about your manufacturing business?
Defining real, achievable goals as you tackle the design process will help you meet your objectives along the way.
2. Identify Your Unique Selling Proposition (USP)
For manufacturing companies, branding on a landing page is all about highlighting what makes you special. In other words, what is your "unique selling proposition"? What do you have that other manufacturers don't?
If you want to create a landing page that sells, you'll need to actively feature your product USP through brand storytelling. The goal is to make your brand appealing to visitors. Incorporate your value proposition in everything, – from the benefits listed on the page to your contact information and testimonials.
A USP isn't just a brag. It's a valid point that reveals what your business offers that others don't. Really think about what your manufacturing customers want and focus on how you will uniquely provide the solution.
3. Create a Buyer Persona
A buyer persona is a semi-fictional representation of your "ideal" customer. Essentially, your team should leverage exhaustive market research and customer data to come up with the picture-perfect concept of your perfect buyer.
As you design or revamp your landing page, think about what exactly your buyer persona needs from you, not what you need from them. If you can target that customer persona and their motivations, you'll increase your odds of real conversions in the long run.
Any worthwhile lead generation landing page offers visitors something. This could be access to a webinar, a tip sheet, an e-book, a consultation, a comprehensive guide to manufacturing safety or trends, or anything else.
No matter what your offering is, it needs to be presented in a way that sparks action. Even the greatest offer in the world can fall flat if it's not presented well. You need to highlight the challenges your offering solves, what the person will gain from it, and why they should care.
Be concise here.
It's a safe assumption that today's buyers are impatient. They're not going to dig through a wall of text to learn the benefits of what you are selling – you need to spell it out for them.
5. Use Psychological Triggers
Selling is all about psychology. Using psychological triggers in your landing page encourages people to act quickly.
For example, when you include a "limited-time offer" or a product that's quickly going out of stock on a landing page, you implant a sense of scarcity in your customers to act immediately – not later.
Although scarcity tactics can be beneficial for manufacturing companies, a word of caution: don't come across as too salesman-like or pushy. Simply convey the message that your special offer or a certain product/service won't be around forever. Give people reasons to act sooner rather than later.
Using phrases like "last chance," "almost over," or "temporary" pushes people to act on the fear of missing out – an extremely powerful motivator. There are many different psychological triggers that can be used on a landing page. If you're working with a digital marketing agency, you'll be advised on the most ideal one to use for your goals.
6. Check Your Website Analytics and Adjust
Once your landing page is launched, you need to keep a watchful eye on how it performs. Monitor the results to understand what trends are occurring, weaknesses you can address, and consistently improve the conversion rates. The more data you gather on your current landing page, the more you can tweak it to work effectively in the future.
7. Continuously Optimize Your Website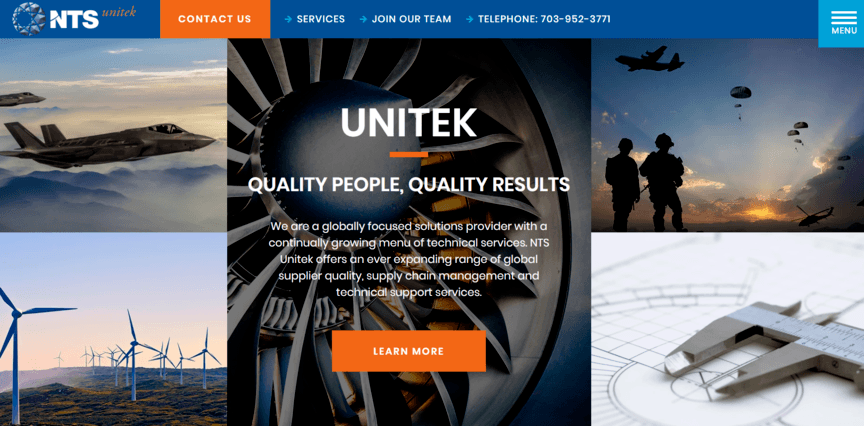 A landing page is important, don't get us wrong. It's the first impression your manufacturing brand can make on a buyer.
However, a landing page is only as good as the rest of the website it represents. If your website is convoluted, difficult-to-navigate, and full of outdated content, even the shiniest landing page won't save you in the long haul.
As you redesign your landing page and optimise it for conversions, try to do the same for other parts of your website. Ensure it loads quickly and offers users exactly what they need.
As you can see, creating an amazing manufacturing landing page strategy requires a great deal of thought, research, and purpose. It's not something you can just slap together, especially if you want your site to generate a large number of potential leads and conversions.
Focus on identifying exactly what your manufacturing brand has to offer. Give your visitors something in exchange for their information, whether that's free content, special promotions, or even just more reasons to trust your company.
At Curve Communications, we've been creating manufacturing landing pages with years of success. Get in touch with our team of web designers and copywriters to learn how to make a page that really works on your brand's behalf.