Growing Health & Technology District on Surrey's Innovation Boulevard to Bring a Billion Dollars to BC's Economy Annually
The second of eight buildings breaks ground in Surrey. 

City Centre 2 accelerates novel technology that generates rapid healthcare solutions, while creating significant economic growth.
FOR IMMEDIATE RELEASE
Surrey, BC (February 5, 2016) —  Groundbreaking on City Centre 2 took place this week signaling the latest Innovation Boulevard contribution to BC's healthcare and economic growth, bringing investment, companies, jobs and healthcare advances.

According to Lark President Larry Fisher, long time Surrey land developer, the entire development once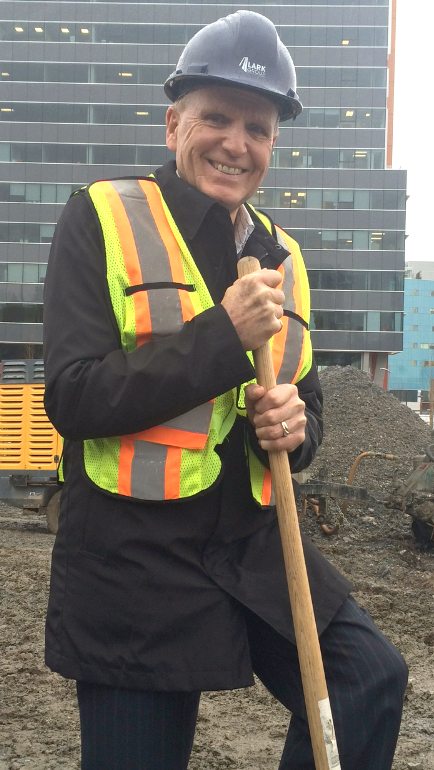 finished will contribute more than $1.1-billion annually to the local economy, with a one-time infusion of $625-million in construction costs. The Health & Technology District will attract more than 500 companies and create up to 5,300 direct high tech jobs with over 8,000 indirect jobs to come, which is welcome news for advancing education and growing BC's talent pool.
"It is very rewarding for Lark to be part of something that will change the future for Surrey, BC, and all Canadians. We look forward to creating this new future and making significant contributions to the economic growth and wellbeing of all those who love this Province," says Fisher. 
"The Health and Technology District is transforming the way high quality health care is delivered to Canadians, through the use of technology to enable innovative solutions, create high tech jobs right here in Surrey, and attract the brightest talented minds to BC and Canada. This is an innovative model that offers the services our community needs, today and into the future," says Dr. Ryan D'Arcy, neuroscientist at SFU and Surrey Memorial Hospital.
Purposely modelled after some of the world's most successful technology centres like Silicon Valley, Lark Group and partners Dayhu Group launched City Centre 1 through City Centre 8 to accommodate the Health & Technology District expansion. 
Located immediately adjacent to Surrey Memorial Hospital, a rapidly growing health campus in one of Canada's fastest growing cities and busiest hospitals, this setting for healthcare innovations could not be better situated.  In two years, City Centre 1 has been quickly filled and is catapulting the Health and Technology District's growing momentum. With a multitude of clinics, care homes, technology companies, innovation hubs, and rapid growth in advanced and innovative new-age healthcare businesses, there is limitless potential as this ambitious and timely vision takes shape. With City Centre 2 now underway, the direct and tangible health and business impacts take the next quantum leap forward.
"The Health and Technology District is designed and built to foster infinite imagination, vision, and global competition with world leading healthcare innovation centers. It brings together our brightest minds, focuses on disruptive technologies, and integration with leading health care specialists – who work together to create solutions that impact lives and bring positive change. What better location than right here on Innovation Boulevard," says Kirk Fisher, Senior Vice President. 
For more information about the Lark Group, visit the website: https://www.larkgroup.com