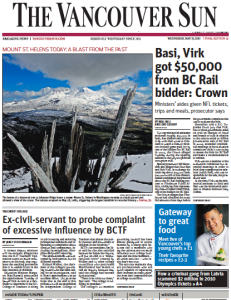 Curve was very pleased to see the smiling face of Goldfish chef William Tse greeting us from the front cover of The Vancouver Sun today.  Our PR company coordinated the article as part of a special feature on some of Vancouver's best restaurants and chefs.  Enjoy his interview below and don't forget to visit vancouversun.com to check out his amazing Halibut Wellington recipe.

I was born in Middlesborough, England and immigrated to Canada when I was seven years old. My dad is from Hong Kong and my mom is from China. Growing up in a Chinese household, I was accustomed to the strong distinct flavours of Chinese food. Both my parents worked in the industry and my dad was a well-versed chef in both Asian and western cuisine. I love the flavour combinations, the cooking techniques, the balances of textures, and the symmetry of a dish. It's like following the philosophy of ying and yang.
I was always curious about European and western cooking, and landed my first western cooking job at the Delta Resort and Conference Centre. It was a great learning experience.
One day, I started to combine some of the lessons I learned from a Chinese restaurant with that of the European-run hotel kitchen. I started to realize subtle flavour nuances from both the Chinese world and the European world worked very well together. It was all in how you harmonized the food together. It was a revelation for me — being Chinese and then falling in love with European cooking. I realized I did not have to choose if I combined the two.
I love to eat Chinese food, and we usually go out to a restaurant for this. For instance, if I go out to eat with my family (there's four of us) we usually get five to six dishes to share, rice and soup.
At home I like to cook a variety of baked items, sautes and barbecues. For example a soy, thyme and garlic marinated rib-eye steak (bone in of course), ginger-scented scallop potatoes, simple steamed rice, caramelized onion jus and garlic soy braised whole mushrooms. Other dishes include Thai barbecue baked chicken and two types of prawns — Thai chili with a hint of soy, and traditional garlic, onion and chardonnay.
So for me this is family style eating, just with a more European and Western menu with hints of the Orient.
Don't forget, Goldfish's hot party Summer Splash is coming up on June 16.  Tickets are $60 and you can find out more at www.goldfishkitchen.com. To book, please call 604.689.8318.