We're happy to see that two of our Vancouver-based clients garnered national coverage this week!
On the front page of the Globe and Mail, Travellers Deck founder and chief navigator Brenda Ee was profiled along with several other business people who have left the corporate world in favor of following their dreams through entrepreneurial ventures.
Formerly involved with sales in real estate development, Ee decided to turn her own hobbies (eating out and window shopping) into an innovative product when her industry experienced a downturn. The result is Travellers Deck, a guide to all the best independent places to eat and shop in the city that only a local could tell you about.
Here's the cover: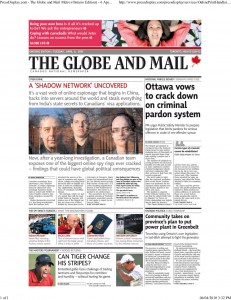 Also popping up across the country, our client Thera Wise was included in yesterday's Toronto Star.
The all-natural line of ointments are highlighted for their effectiveness and their lack of chemical compounds, many of which are actually counterproductive to the body's self-healing mechanisms – facts quoted in the article by Warren Brander, the company's founder.
Here's the article: