DESCRIPTION
World In Burnaby is an initiative created by the Burnaby Intercultural Planning Table (BIPT) to engage and inspire residents to welcome and support newcomers to the city of Burnaby- specifically new immigrants and refugees- to make Burnaby the most welcoming community in Canada.
RESULT
Twitter and Facebook pages were created to share ideas, thoughts and general information about the benefits of multiculturalism, the benefits of immigrants in the community and also the struggles newcomers face moving to a new city.
Curve designed and created a 20 foot inflatable globe, which was taken around to a number of events around Burnaby, with people encouraged to take photos and share them online with the Twitter hashtag #WorldInBurnaby. In doing so, their photos appeared on the World In Burnaby website front page.
An online pledge form was created to encourage residents to commit to one act to make Burnaby more welcoming. The pledge form was also attached to the World In Burnaby Facebook page through an app. Through Facebook marketing, Curve ensured the increased presence of World In Burnaby online. This pledge form was also repeatedly shared through the World in Burnaby Twitter account as well.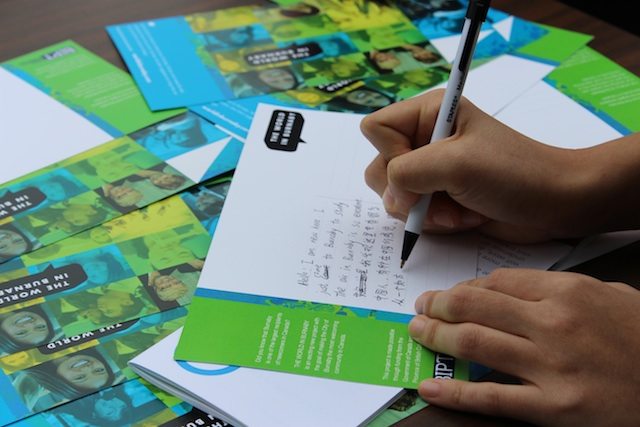 We encouraged visitors to these events to fill out special "Welcoming Postcards". We collected
several hundred postcards and distributed them to a variety of ESL classes across Burnaby. Specifically, these postcards were given to immigrant newcomers to make them feel more welcome.
As a result, awareness of the campaign was brought to thousands of Burnaby residents, who participated in a simple commitment to being a welcoming neighbour in their community.