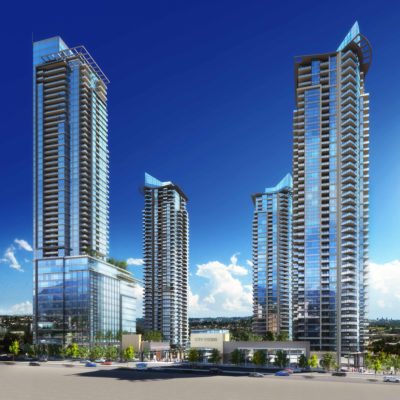 Appia Development is a long-time, Burnaby-based developer. Jim Bosa, the company's founder and president, is a member of the Bosa family, which has an established reputation for high-quality construction. For him, real estate isn't just about building residential condos and commercial buildings; it's about creating vibrant communities.
Appia is currently constructing SOLO District – which stands for "South of Lougheed" – at Lougheed and Willingdon in North Burnaby. Directly across the street from the Sky Train and within walking distance to countless amenities, this new neighbourhood is designed to be extremely livable.
When complete, the development will include four towers with residential and commercial space. One of the residential towers – Altus – will be the tallest building in Burnaby when finished, rising 550 feet into the sky.
SOLO District is also designed to be a business hub, so residents have every convenience at their doorsteps. It has already attracted several businesses, including Whole foods, Shoppers Drug Mart, Starbucks, BCAA, G&F Financial Group, KOKO Nail & Lash Bar, Ricky's Café, pho d'lite, Uncle Fatih's Pizza, Stripped Wax Bar, SOLO Dental, and a BC Liquor Store.
Appia Development initially approached Curve because it needed help generating awareness about the SOLO District Sales Centre at Lougheed and Willingdon during the launch of phase two – Altus.
---
Does this sound like your real estate or development company?
Are you launching a new project or selling condos in pre-sale?
Do you want to connect with potential buyers?
Do you need help standing out from other developments in an extremely competitive market?
Could your project benefit from a social media strategy?
Are you looking for creative ways to get noticed?
Do you need help planning a launch event?
Does your new project need an awesome website?