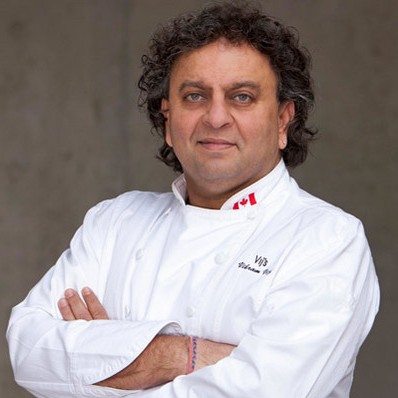 Vikram Vij is a household name in British Columbia and across Canada. He's best known for his Vancouver-based restaurant, Vij's, which connoisseurs of modern Indian cuisine line up for rain or shine.
The chef moved to Canada in 1989 to work at the Banff Springs Hotel. At the time, owning a restaurant was just a dream. Vij often says, "If someone told him back then that he would own several restaurants, food trucks, and a factory, and be on television, he would have laughed."
Today, he's accomplished all that and much more. Vij is a chef, restaurateur, television personality, author, entrepreneur, public speaker, and advocate for multiculturalism and sustainability.
He owns not one, but three restaurants – Vij's, Rangoli and My Shanti. He produces a line of take-home food in his factory. His dishes are available at BC Place, Roger's Arena, Whistler Blackcomb, and on the streets of Vancouver thanks to his two food trucks. He's a sommelier, he's been a judge on Dragons' Den, and he sits on an independent advisory board that submits Senate candidate recommendations.
Vikram Vij has gone from dreaming about owning a single restaurant to running a small empire. And an empire can't function like a well-oiled machine without support from a team of dedicated people, which Vij has at his restaurants and at Curve Communications.
---
Does this sound like you?
Are you a television personality and/or public figure that also runs a business?
Is every day of your schedule full?
Is the media constantly reaching out to you for interviews?
Are you working on interesting projects that need to be pitched to the media?
Do you need help writing speeches for events and articles for various publications?
Could you benefit from having a team run your social media accounts?
Are you looking for creative ideas to help grow different areas of your business?
Do you need a communications and marketing team that can drop everything to help YOU when something urgent comes up?
If so, you've come to the right place. We specialize in influencer marketing.
And we're a full-service agency. This means we can take care of all your marketing needs, so you have more time to do the work you love.