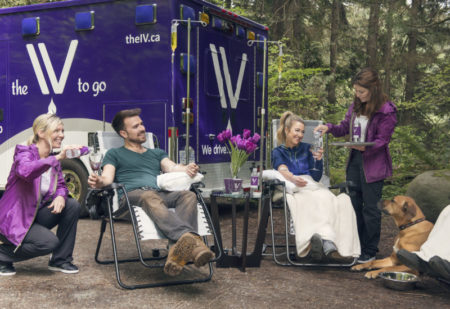 The IV Wellness Boutique is Vancouver's first ever wellness clinic specializing in intravenous vitamin therapy. Dr. Heidi Roots and Robin Szakacs opened the full-service clinic on Homer Street in 2014. In addition to IV treatments, the team of healthcare professionals offers naturopathic medicine, medical aesthetics, registered massage therapy, and registered acupuncture.
For those who haven't heard about vitamin therapy, it involves administering high doses of vitamins, minerals and amino acids intravenously. Celebrities and sports stars have long touted the benefits of this treatment for everything from hangovers, stress, and sleep problems to fatigue, colds, hormone imbalance, weight loss, and much more.
All patients receive health assessments before getting customized treatments of vitamins and minerals, but the IV feels more like a spa than a medical clinic. Patients sit in comfortable, reclining chairs while enjoying their 40-minute treatments. If you ever walk down Homer Street, you can't miss the clinic because patients are often sitting in the window getting their IVs.
Before opening in 2014, the IV Wellness Boutique's founders knew they needed a plan to help make a splash in the Vancouver market. At the time, they specialized in a service no other local wellness clinics were offering. That meant they could become an industry leader if they had the right marketing plan and capitalized on all opportunities.
---
Does this sound like your healthcare business or practice?
Are you launching a new practice or clinic?
Do you need help building a brand that patients will trust?
Do you want to know how to stand out from the competition?
Are you searching for new ways to connect with prospective patients or clients?
Do you struggle to manage marketing efforts while also managing your medical practice?
Could you use some advice about social media and how to use it to connect with new patients/clients?
Do you have an interesting story to tell or offer a unique service that you think the media would be interested in?
Could your healthcare business or practice's website use a refresh?
If so, make an appointment with Dr. Curve. We give existing healthcare brands marketing checkups and offer new ones a healthy start. Let Curve be your marketing lifeline.