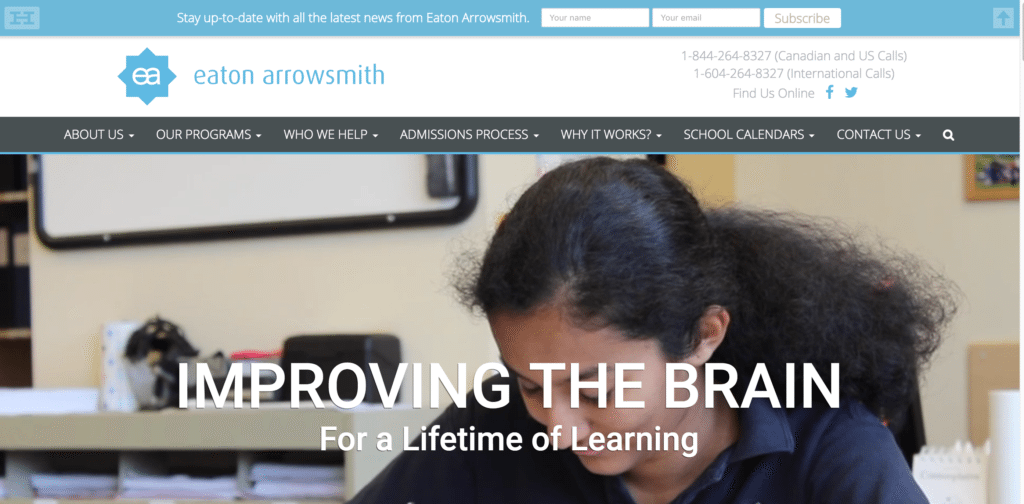 Eaton Arrowsmith (EA) is a private school for children with learning disabilities. But unlike other alternative schools, it doesn't give students workarounds or tools to help them cope with their weaknesses. Instead, it uses the science of neuroplasticity to strengthen children's brains.
The school has locations in Vancouver, White Rock and Redmond, WA. Its parent company – Eaton Educational Group – operates Eaton Cognitive Improvement centres (for adults with learning disabilities) in Vancouver and Redmond. It also has an enriched school – Magnussen – for children who benefit from individualized learning plans.
The Arrowsmith Program was developed by Barbara Arrowsmith-Young and has helped students strengthen their brains for more than 35 years. Howard Eaton established EA in 2005 to bring this unique program to Vancouver. Since then, the school has expanded and changed the lives of students from around the world.
Brand Confusion
Eaton Arrowsmith approached Curve Communications in December 2014. At the time, Eaton Educational Group had five websites – EA, ECIC, Magnussen, Eaton Arrowsmith Academy in Redmond, and Eaton Educational Group. All had different branding, resulting in confusion as to how the schools related to each other.
Managing these sites also created a lot of extra work for the client, who had to update five different sites every time something changed. The EA website, in particular, became a content dumping ground. It was difficult to navigate and hard for prospective parents and students to understand what the school offered. The sites just didn't reflect the inspiring, nurturing environment that the Eaton Educational Group provides for students with learning disabilities.
Curve was hired to find a solution to the website problem and make it an effective tool for recruiting new students.
---
Does this sound like your school or education facility?
Have you experienced rapid growth since first opening your doors to students/clients?
Has your brand become diluted and confusing, but you don't know how to fix it?
Could you benefit from an outsider evaluation of your brand?
Have you hit a wall when it comes to attracting new students?
When parents contact you, do they seem confused about what you do/offer?
Are your marketing tools not working for you?
Do you find it difficult to manage marketing efforts internally while also running your school?
Do you need a communications and marketing team to solidify your brand and help attract new students?
We're expert education marketers. We know how to simplify complicated content and branding to attract new students to schools and education programs.